LifeFlow (2010-2012)
Understanding Millions of Event Sequences in a Million Pixels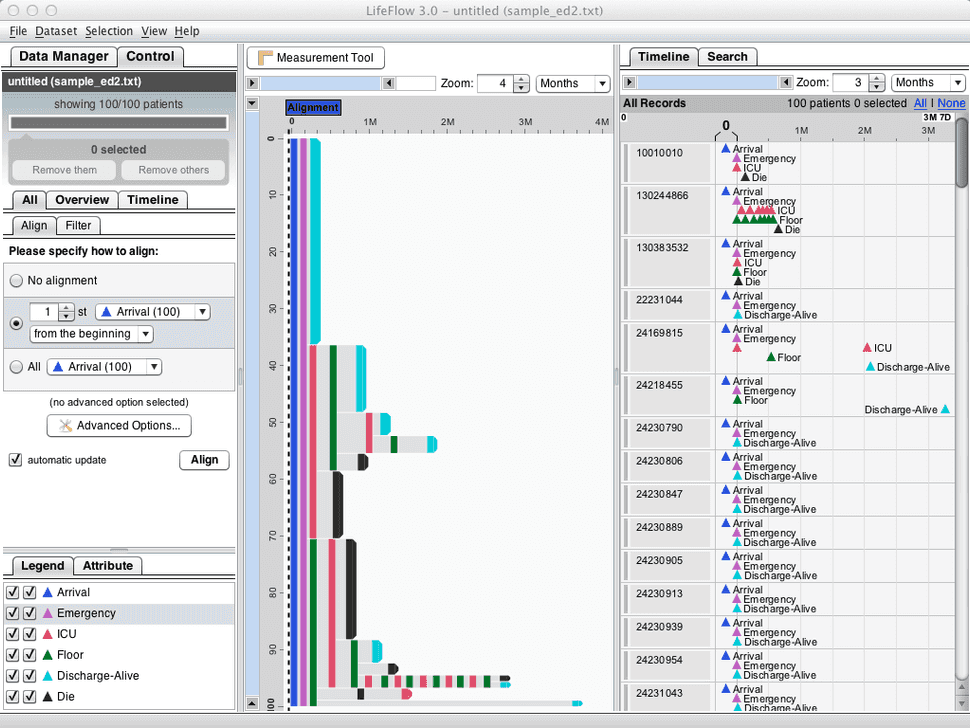 Description
Event sequence analysis is an important task in many domains: medical researchers study the patterns of transfers within the hospital for quality control; transportation experts study accident response logs to identify best practices. In most cases they deal with more than thousands of records. While previous research has focused on searching and browsing, overview tasks are often overlooked. We introduce a novel interactive visual overview of event sequences called LifeFlow. LifeFlow scales to any number of records, summarizes all possible sequences, and highlights the temporal spacing of the events within sequences.
Members
Krist Wongsuphasawat, Catherine Plaisant and Ben Shneiderman
Affiliation
Department of Computer Science and Human-Computer Interaction Lab, University of Maryland
Slides
If this is your first time here, go ahead and take a look at this presentation. It will introduce you to LifeFlow.
Videos
Link
Publications
LifeFlow: Visualizing an Overview of Event Sequences by Krist Wongsuphasawat, John Alexis Guerra Gomez, Catherine Plaisant, Taowei David Wang, Meirav Taieb-Maimon and Ben Shneiderman. in Proc. ACM SIGCHI Conference on Human Factors in Computing (CHI) 2011, Vancouver, BC, Canada, 7-12 May 2011
Analyzing Incident Management Event Sequences with Interactive Visualization by John Alexis Guerra Gomez, Krist Wongsuphasawat, Taowei David Wang, Michael L. Pack and Catherine Plaisant. To Appear in Transportation Research Board 90th Annual Meeting Compendium of Papers, 2011
Towards Event Sequence Representation, Reasoning, and Visualization for EHR Data by Cui Tao, Krist Wongsuphasawat, Kim Clark, Catherine Plaisant, Ben Shneiderman and Christopher G. Chute. in Proc. ACM SIGHIT International Health Informatics Symposium (IHI) 2012, Miami, FL, USA, 28-30 January, 2012